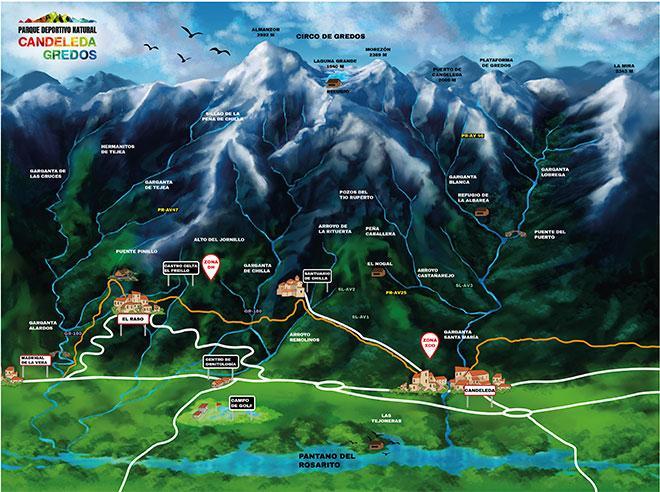 GR 180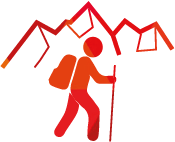 GR 180 STAGE 1 – MADRIGAL DE LA VERA- CANDELEDA
The GR 180 picks up the GR 111 hiking baton in the town of Madrigal de la Vera in Cáceres and Verata. It crosses the stone bridge of the Garganta de Alardos (a natural border between Extremadura and Castilla), and goes to visit the Vetón hillfort of El Freillo (3 rd century B.C.) amidst fields of crops.
It passes through the village of El Raso and settles at the bottom of the southern slopes that descend from the Circo de Gredos.
The views over the midday area of Bajo Tiétar and the nearby region of La Vera are wonderful.
The route crosses the Garganta de Chilla, one of the main watercourses that descend between the mountain ranges of this western sector of the sierra. It stops at the Santuario de Nuestra Señora de Chilla (16th-18th centuries), it is surrounded by a lush forest of oak and ash trees, and heads along a local road, through a dome of oak trees, to Candeleda, where the first stage of the route ends.
GR 180 STAGE 2 CANDELEDA- ARENAS DE SAN PEDRO
The stage leaves Candeleda along the path of the Puerto de Candeleda or Trocha Real, a cattle track that shortened the journey and saved the slog of the Puerto del Pico for transhumant livestock. It leaves it and enters an immense oak grove that covers the southern slopes of the Canchón and Cabezo de Cereda mountain ranges.
The route crosses the road of the town of Poyales del Hoyo and the urbanization El Palancar. It crosses the Arbillas river and, along good forest tracks, begins to ascend through a compact pine forest to cross the Collado de Portezuelo.
The views of the Valle de Arbillas from the viewpoint are immense, from the Embalse del Rosaritoto the Cabeza del Cervunal (2,089 m).
It descends the other side of the pass, the one that overlooks the valley of the Pelayo river, to the road that leads to Guisando, a village that has been declared a historic-artistic and picturesque site.
The last part of the stage combines the use of the path between the fields and the forest track that goes down the Lancharon towards Arenas de San Pedro, which offers an excellent panoramic view of the town centre and the reservoir of the Cuevas river.