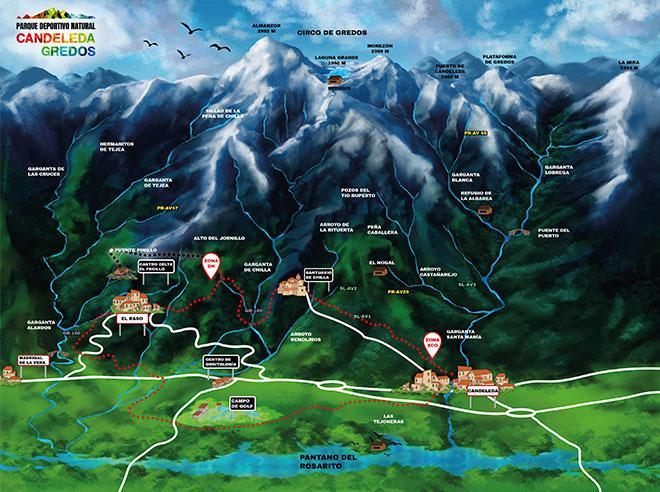 R4: EL RASO - CHILLA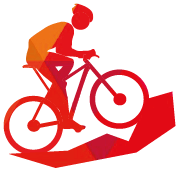 You must bring with you the track, since this route it is not signposted.
This route has 36,5 km long and 1 000 meters of elevation gain. Its technical level is low, with the excepción of some sections in which the descents need more technique. Anaway, if you have a good physical condition you won't have any problema in order to get off the bike at these points and go walking. The difficult points of this route are after the first long ascent, when we cross El Raso and at some points when we descent from the Santuario de Chilla towards Candeleda.
The route begins with 12 km totally flat along the golf course towards Madrigal de la Vera. We join the GR-180, where we start the ascent to El Raso and from there, the ascent of El Canalón. El Canalón is a climb of 3 km and 260 metres with an average gradient of 8,5 %. This would be the most challenging part of the whole route.
The climb is done by a track where the views are amazing. It is worth making a small stop to take some pictures. After that climb we have a descent through fun trails, although for the less skilled it can be difficult in some sections. But this is not a problem: foot down and we continue. You also have the option of not doing the climb to El Canalón and to continue straight at the junction, making a shortcut and thus avoiding this hard climb. Once we finish the descent, we will go up again towards the Santuario de Chilla. And finally from there we will descend by another path to the village.
ALTERNATIVE: For the bravest and most skilled, when you get to El Raso, instead of doing the ascent of El Canalón, you can change the direction towards the Castro Celta (it is a Celtic hillfort) and continue climbing to take a technical path, with some stretches even on foot, that will take you to the top of El Canalón, by an alternative and more technical path. In this case, to the distance of the route you must add 5 km more, with 100 m of positive slope more, and about 30 minutes more of duration.
Recommendations: Only for people who are used to riding 3 - 4 days a week. IYou can do this route at any time of the year, but autumn, winter and spring are the most recommended seasons.
You will find some mud in the first 10 km. There are fountains in El Raso and in the Santuario de Chilla. The use of the track is compulsory because in many points the route is not signposted.