SUCKLING LAMB
The meat of the suckling lamb is very worthy because of its low amount of fat and its extremely delicious flavour. Furthermore, this meat is very tender by nature. It is a high-protein meat, and it's really easy to digest, so the suckling lam meat is a source of high nutritional value.
Its diet gives this meat a high quality, which makes it competitive with other maets.
The suckling lamb grows up in ecological conditions typical of the Gredos area; and it feeds on fresh air, thyme, rockrose, heather and other plants around this area.
The most common ways of eating it are in roasted shoulders, in stew (in Spanish we know it as "Caldereta") or in fried or grilled chops.
PAPRIKA
Thanks to its climate, for many years Candeleda has been growing peppers for processing into paprika. Over the years, fewer growers continue with this crop. But this process is still the traditional way: peppers are dried in old stone dryers, with oak or holm oak wood to be slowly smoked. This process gives it its special and unique flavor and smell. Candeleda has its own variety of peppers, the "Lerele", and it is treated as our ancestors did it. There is an association of "pimentoneros" (those who cultivate peppers for processing into paprika), who take part individually in different fairs.
Each year during the "puente de la Constitución" (It's a public holiday in Spain, which normally joins the weekend and Spanish people enjoy several days off) takes place in Candeleda the "Feria de queso de cabra y el pimentón (a goat cheese and paprika fair).
This paprika is known as the "red gold".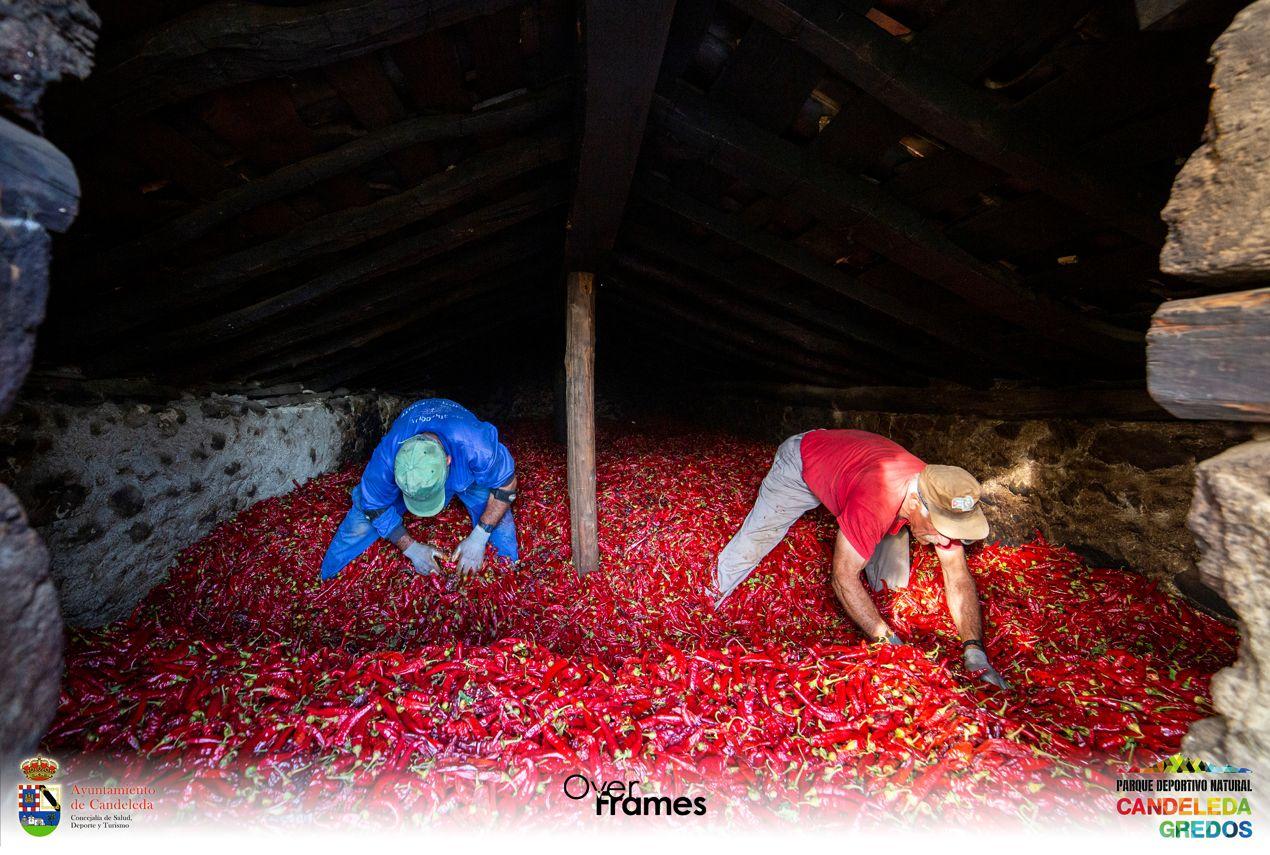 GOAT CHEESE
In our town, the goat farms has a tradition for centuries. Candeleda is a place for goatherd who grazed our mountain fields and thanks to that they could obtain different products from the goat: the suckling lamb and the goat milk, from which they make the precious cheese. This milk has a higher proportion of fatty acids and a lot of proteins. The autochthonous breed of our area is the Cabra Verata. Goat cheese has been made for thousands of years, and it was probably one of the first dairy products. In its simplest form, goat cheese is prepared by letting the raw milk cut naturally by draining and then pressing the curd. Goat cheeses are made artisanally, although in recent years some companies that manufacture them on a larger scale have emerged.
There are diferent types of cheese: "queso fresco" (It's the unripened or slightly ripened cheese obtained by coagulation of milk by curdling or lactic fermentation; it is white in color); semi-cured cheese, got cheese log (goat cheese roller); cream cheese…
In addition to being typical products, goat grazing is a tradition and a heritage resource of our town. At the moment, Quesería Valdecabras and the Coop. de Ganaderos de Caprino de Candeleda are the companies that export goat cheeses from Candeleda.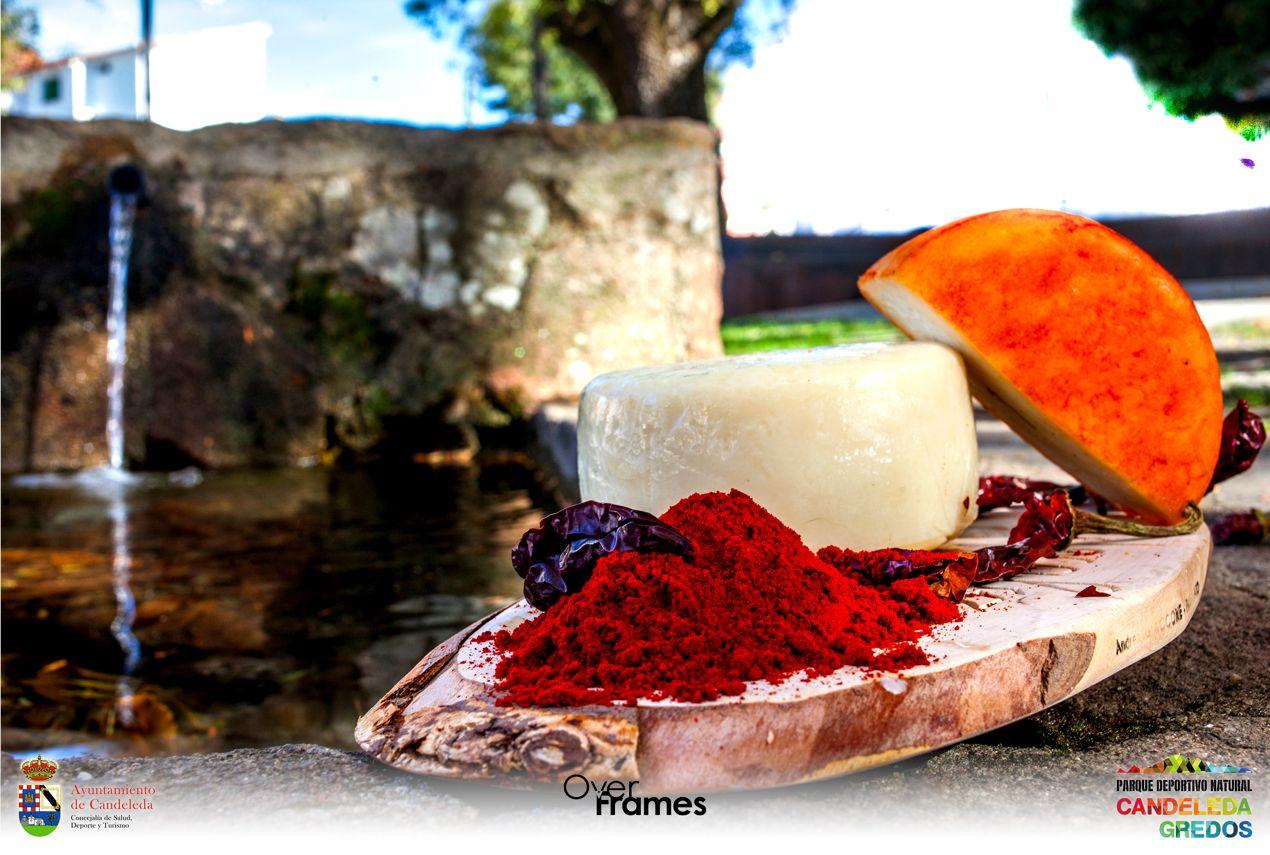 FIGS
From our ancestors, figs are a mainstay of our economy. We have Celtic remains in which fig trees already existed. From the Neolethic the predominant variety is the "Cuello de Dama", which is rich in fibre, in antioxidants and in proteins. Figs can be consumed fresh or dry. Dried figs are preserved in winter and they are used by athletes very often, since figs have a high nutritional value; furthermore they are really easy to carry while sports practice.
The CoperativaCapra Hispana helds the "Higo de Gredos" seal guarantee, which is the first one in the whole province.
OIL
Our oil belongs to the "manzanilla" variety (chamomile variety), which is known as the "cacereña". This oil variety is distinguished by its small-medium size leafs, it's Green on its upper side and greenish-grey on its underside. This greenish-yellow olive oil has a fruity and sweet taste. Candeleda is one of the most important olive-producer areas in the province of Ávila and even in Castilla y León, where olive growing is little known. Practically all of its planting is done on dry farming. The tree has an early and constant productivity. It is sensitive to cold and to humidity excess.
In Candeleda, lmazara Coop. Prodetietar is the unique company that contemplates its full process up to packaging.